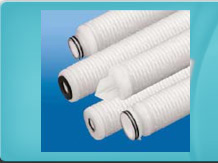 Liquid Process Filters & Housings
Downloads

Liqtech Industries
Regd.office: 802, Eastern Majesty, Tata Colony, Mulund East,Mumbai - 400081
Mobile No: +91 9769998181 / Email: liqtechindustries@gmail.com
Supplier of Liquid Process Filters & Housings
It is our great pleasure to offer "Liquid Process Filters" manufactured by "Graver from USA" through Thermax Limited.
Thermax Limited is involved in offering Sustainable Solutions in Energy and Environment. Business expertise of Termax is in providing products, services and solutions in  heating, cooling, waste heat recovery, captive power, water treatment and recycling, air pollution control, performance chemicals, waste management and solar. 
Thermax has now added a new product in line with the above products, in collaboration with a US based company "Graver Technologies", namely Liquid Process Filters alias Cartridge filters. 
Graver Technologies (member of The Marmon Group-A Berkshire Hathaway Company) offer an extensive line of filter cartridges to provide high performance & cost effective solutions for liquid process application. Graver Technologies liquid process filters service a wide array of applications in the Bio Pharmaceuticals, Beverage, Chemicals & Microelectronics. Graver Membrane Filters are constructed in a state of the art manufacturing that includes an ISO Class 7 clean room to meet the most demanding customer requirements. Also they are available in a wide range of media types, cartridge designs, micron ratings & configurations to optimize filtration efficiency. 
We can offer you complete range of filter cartridge which would be applicable for your Upstream & Downstream process side filtration requirements which includes Depth, Pleated, Membrane & Specialty Filters. 
It will be our pleasure to provide you all concerned Documents, Certificate & Validation Guide for "Approval of our Products".
We now look forward for an opportunity to serve you in near future.