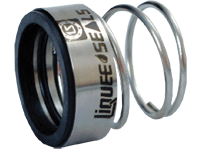 MECHANICAL SEAL DESIGNS
Single Spring Version
Our Products
VERSION LS-101-S

FEATURES:

SINGLE SEAL

UNBALANCED

INSIDE MOUNTED

SINGLE HELICAL SPRING

INDEPENDENT ON DIRECTION OF ROTATION

STANDARD M.O.C.:

SEAL FACES:
Carbon
Ceramic
Tungsten Carbide
Silicon Carbide etc.

SECONDARY SEALS :
LS-101-SO:  EPDM, Viton, FEP
LS-101-SW: PTFE, GFT

METAL PARTS :
S.S. 316,             
Alloy-20,
Hastalloy-C,        
Titanium etc.


APPLICATIONS:
Food & Pharmaceuticals Industries,          
Oil/Solvent Extraction Plants,
Chemical Industries,                        
Pulp and Paper Industries etc.

OPERATING LIMITS:
Sizes:                    25mm to 110mm
Pressure:              Upto 10 bars
Temperature:        -20Deg.C to +200 Deg.C
Speed:                  Upto 20m/s

Version LS-101-S is a single acting, unbalanced seal which is independent on direction ofrotation. It is a multi purpose design seal which is successfully used for sealing dirty medias.