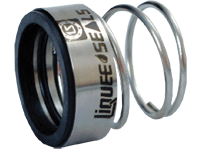 MECHANICAL SEAL DESIGNS
Single Spring Version
Our Products
VERSION LS-101-SB

FEATURES:

SINGLE SEAL

BALANCED

INSIDE MOUNTED

SINGLE HELICAL SPRING

INDEPENDENT ON DIRECTION OF ROTATION

STANDARD M.O.C.:

SEAL FACES:

Carbon
Ceramic
Tungsten Carbide
Silicon Carbide

SECONDARY SEALS :

EPDM                 
Viton
PTFE
GFT
FEP

METAL PARTS :

S.S. 316              
Alloy-20
Hastalloy-C etc.


APPLICATIONS:

Petrochemicals,             
Oil Extraction/Refinery plants,
Boiler Feed pumps etc.

OPERATING LIMITS:

Sizes:                    25mm to 90mm
Pressure:              Upto 25 bars
Temperature:        -20Deg.C to +200 Deg.C
Speed:                  Upto 20m/s

Version LS-101-SB is a single acting balanced and independent on direction of rotation seal developed for high temperature and high pressure applications. All components are held together by lock ring which helps in easier installation.