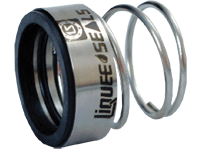 MECHANICAL SEAL DESIGNS
Single Spring Version
Our Products
VERSION LS-102-N

FEATURES:

SINGLE ACTING WAVE SPRING

UNBALANCED

INSIDE MOUNTED

INDEPENDENT ON DIRECTION OF ROTATION

STANDARD M.O.C.:

SEAL FACES:
Carbon
Stellite
Tungsten Carbide
Silicon Carbide

SECONDARY SEALS :
EPDM,
Viton
FEP

METAL PARTS :
S.S. 316
Alloy-20
Hastalloy-C etc.

APPLICATIONS:
Water,
Oil,
Sugar,
general chemicals etc.

OPERATING LIMITS:
Sizes:                    25mm to 90mm
Pressure:              Upto 10 bars
Temperature:        -20Deg.C to +150 Deg.C
Speed:                  Upto 20m/s

Version LS-102-N is single wave spring design seal commonly used for general sealing applications. Use of wave spring reduces the axial length of the rotary unit which makes it a compact version compared to other standard versions. It can be accommodated specifically in those equipments where dimensional constraints occurred. In this seal transmission of torque from retainer to seal face is carried out with the help of drive pin.