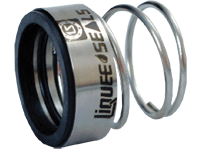 MECHANICAL SEAL DESIGNS
Single Spring Design
Our Products
VERSION LS-105

FEATURES:

SINGLE SEAL

UNBALANCED

INSIDE MOUNTED

SINGLE HELICAL SPRING

INDEPENDENT ON DIRECTION OF ROTATION

STANDARD M.O.C. :

SEAL FACES:
Carbon
Tungsten Carbide
Silicon Carbide

SECONDARY SEALS :
PTFE
GFT
FEP

METAL PARTS :
S.S. 316,              Alloy-20,
Hastalloy-C etc.

APPLICATIONS:
Petrochemicals
Oil Extractions & Refineries
Soap Industries etc.


OPERATING LIMITS: Sizes:                    25mm to 110mm
Pressure:              Under vacuum to 10 bars
Temperature:        upto 280Deg.C
Speed:                  Upto 20m/s

Version LS-105 is specially design and develop for sealing high temperature mediaslike Fatty Acids, Hot Oils, Hot Water etc. Drive lugs provided in this version ensure torque transmission from drive collar to spring holder and seal faces. It helps in providing extra positive drive.