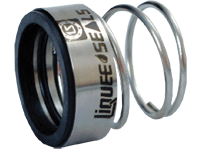 MECHANICAL SEAL DESIGNS
Single Spring Design
Our Products
VERSION LS-205

FEATURES:

SINGLE SEAL

UNBALANCED

INSIDE MOUNTED

SINGLE HELICAL SPRING

DEPENDENT ON DIRECTION OF ROTATION


STANDARD M.O.C.:

SEAL FACES:
Carbon
Ceramic
Stellite
Tungsten Carbide
Silicon Carbide

SECONDARY SEALS :

Nitrile
EPDM
Viton

APPLICATIONS:

Water
Oil
Mild Chemicals

OPERATING LIMITS:

Sizes:                    16mm to 110mm
Pressure:              Upto 10 bars
Temperature:        -20Deg.C to +150 Deg.C
Speed:                  Upto 20m/s

Version LS-205 is a single spring, unbalanced and dependent on direction of rotation seal which are commonly used for general applications. Interchangeability of seal components helps to minimise the stock. This version of seal is widely used in petrochemicals, fertilizers, refineries, water treatment plants, shipping industries.