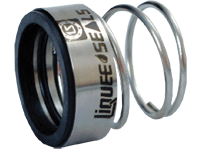 MECHANICAL SEAL DESIGNS
Single Spring Design
Our Products
VERSION LS-301
FEATURES:

SINGLE SEAL

UNBALANCED

INSIDE MOUNTED

SINGLE HELICAL SPRING

INDEPENDENT ON DIRECTION OF ROTATION

STANDARD M.O.C.:

SEAL FACES:

Carbon
Ceramic
Stellite
Tungsten Carbide
Silicon Carbide

SECONDARY SEALS :

Nitrile
EPDM
Viton

APPLICATIONS:

Water Pumps
Vacuum Pumps
Submersible Pumps

OPERATING LIMITS:

Sizes:                    12mm to 80mm
Pressure:              Vacuum to 5 bars
Temperature:        -20Deg.C to +130 Deg.C
Speed:                  Upto 20m/s

Version LS-301 is a single spring elastomeric bellow type seal. Commonly used in water, vacuum, submersible pumps. This version is independent on direction of rotation from the drive-end. Elastomeric Bellow feature helps to compensate abnormal shaft run out and axial movement. Notches provided on seal faces and retainer provide extra positive drive.