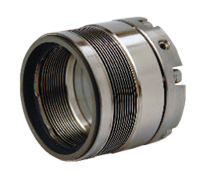 MECHANICAL SEAL DESIGNS
Metallic Springs Seal
Our Products
LS-801

FEATURES:

SINGLE SEAL

BALANCED

WELDED METALLIC BELLOW

INSIDE MOUNTED

INDEPENDENT ON DIRECTION OF ROTATION

STANDARD M.O.C.:

SEAL FACES:
Carbon
Tungsten Carbide
Silicon Carbide

SECONDARY SEALS :

FEP, Graphoil 

METAL PARTS :

S.S. 316
Hastalloy-C
Carpenter-42

WELDED METAL BELLOW:

Hastalloy-C
AM-350

APPLICATIONS :

Petroleum Refineries,
Solvent Extractions & Oil Refineries etc.

OPERATING LIMITS:

Sizes:                    28 to 55mm
Pressure:              Upto 15 bars
Temperature:        Upto 350 Deg.C
Speed:                  Upto 20m/s

Version LS-801 is a welded metal bellow seal popularly used in petrochemicals and refineries for high temperature applications. Metal Bellow feature ensures the temperature resistance capacity of this version upto 350Deg.C. Flexibility incorporated in the metallic bellows eliminates the use of conventional springs in this version.