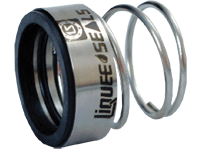 MECHANICAL SEAL DESIGNS
Single Spring Version
Our Products
VERSION LS-905

FEATURES:

SEMI CARTRIDGE SINGLE SEAL

STATIONERY SINGLE SPRING DESIGN

BALANCED

INSIDE MOUNTED

INDEPENDENT ON DIRECTION OF ROTATION

STANDARD M.O.C.:

SEAL FACES:

Carbon
Tungsten Carbide
Silicon Carbide

SECONDARY SEALS :

Viton
GFT
Graphoil
Kalrez


METAL PARTS :

S.S. 316,              Alloy-20,
Hastalloy-C,         Titanium.

APPLICATIONS:

Pharmaceuticals Industries,     Oil/Solvent Extraction Plants,
Chemical Industries,                Pulp and Paper Industries,
Mines,                                     Shipping Industries etc.

OPERATING LIMITS:

Sizes:                    25mm to 90mm
Pressure:              Upto 25 bars
Temperature:        Upto 280 Deg.C
Speed:                  Upto 15m/s

Version LS-905 is a semi assembled cartridge, stationery single spring  design seal commonly used in conventional stuffing boxes of centrifugal pumps handling dirty, abrasive, slurry medias at higher pressure and temperature. Easy to install and maintain. Semi assembled cartridge construction ensures low concentricity of components involved. Use of universal materials make them suitable for a wide range of applications. This version is equipped with the desired auxiliary connections.